Vision
Make Breakthrough
Connections
Welcome to Avia Labs, the newest,
most advanced life science lab
space in the Bay Area.
Avia Labs is conceived as a home for bio-
innovation companies and their teams to
connect, collaborate, and achieve life-
changing breakthroughs.
A development of industry leader
Longfellow, Avia Labs is all-electric
powered. Simply put, ESG priorities are
built in. Let's partner to bring your ideas
to life and your solutions to the world.
Achieving your company's highest purposes: it's about work but it's
also about recharging. That's the whole purpose of ElevateTM,
our proprietary tenant experience and services program.
With Elevate, we design programming, events, and services
that bring amenity spaces to life—just for you.
And what a rich suite of amenities it is:
Inviting lobby with coffee and bites
Conferencing space with reservable large and medium rooms
Onsite secure bike storage with showers
Bright, welcoming yoga studio with programming
Full featured fitness center and locker rooms
Outdoor third floor terrance with mountain views, catering, and prep space
Curated events, programming and services exclusively for our tenant partners, powered by Elevate.

Availabilities
Make space for
life-changing innovations
The Bay Area's newest Class A life
sciences lab building is built with
warm shell infrastructure and
flexible floorplates ranging from
20,000 to 80,000 SF.
They're designed to support the kind
of collaboration and intersections that
will lead to your next breakthrough.
Download Floorplans
We're built so you can get here from everywhere. Exceptionally
accessible, Avia Labs is a short walk to the Millbrae Transit Center
and so much more. Drive in and park on site—you have immediate
access to highways 101, 280, and 380. Pedal-power commuters will
enjoy secure bike storage in the integrated parking structure.
We're 10 minutes from SFO, and from the world.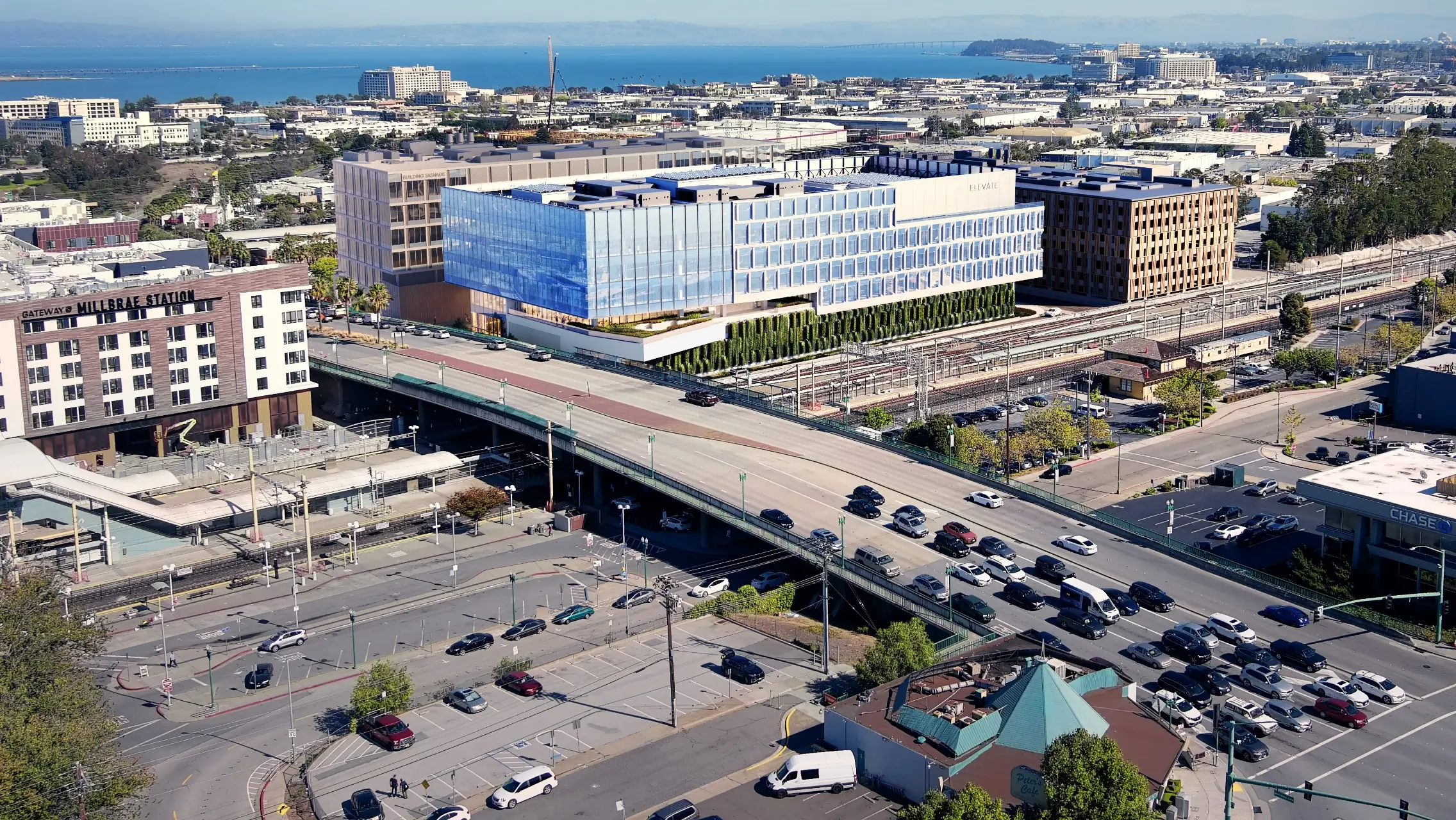 immediate access to highways 101, 280, 380
Robust back-of-house space, including chemical storage, two-bay loading dock designed for a WB-40 truck, shipping and receiving area with hydraulic scissor lift
Rooftop and penthouse space with 150 PSF mechanical load for tenant equipment
All-electric power: 8 watts/USF of lab area, 2500 kW emergency/standby generator, photovoltaic rooftop panels
5,000 lbs. capacity freight elevator with hazmat transport mode, three destination dispatch passenger elevators, and two shuttle elevators from garage to lobby
Concrete slabs with 125 PSF live load, floor-to-floor height of 15'-3" on first floor and 14'-6" on floors 2-6
Building structure designed to 8,000 micro inches per second vibration criteria
450 parking stalls, 45 EV charging stations and capacity for 45 more
High-performing acoustic exterior enclosure system
50:50 lab to office ratio HVAC with 10' ceilings and 12 air-changes/hour

Ownership
More than a
developer: your
partner
Avia Labs is the creation of Longfellow, a
leading developer of life sciences labs. We
are driven by a passion to support those
working to advance the human condition.
It's our goal to create long-term partnerships
with our tenants, so that we can co-create
the working and amenity experience that is
right for your people, your company, and
your mission. Together, let's create an
environment that supports your life-
changing innovations.